PRODUCTS-2: DIAMOND STYLUS, SLIDING SHOE, and BURR CUTTER
What is (Roto)Gravure Printing?

SYNTEK has been producing different kind of diamond stylus for more than 40 years.
Stylus is set on engraving machine for making cylinders on gravure printing business.
As you might know, gravure printing is one of methods of engraving.
This method has an advantage that printing material in higher volume with more beautiful colors than other printing methods.
Gravure printing is used for flexible packaging materials (daily foods), shrink labels(beverages, shampoos, detergent and etc.), tissue boxes, cigarettes, corrugates(cardboards), magazines and other daily products.
It is also used for industrial materials such as decorative paper / film, wallpaper, flooring, ceiling and other interior(furniture).
Once you see around you, you can find many items that are made by gravure printing.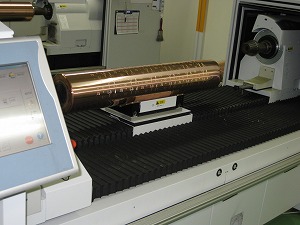 Back to the stylus, our tool is evaluated by its longevity and durability.
We found our original recipe to produce stylus better than our competitors.
Fortunately nobody makes same quality as ours at this moment (until February, 2021).


We also produce sliding shoe, burr cutters and other supplementary tools.
All those tools have both one-way (single use) type and multiple use type.


Even if you do not have any problems or complaints with your current using engraving tools, we recommend to use ours once for trial.
If you see the difference between ours and others you will get another option.
Especially if you aim to additional progress on your operation in the future, our tools will be good company with you.
It is time to try something new, isn't it?

Engraving Tools for Gravure Printing
Diamond Stylus for Helio and Ohio type (Both one-way and multiple use type)
1. Helio stylus;
For normal speed head (4kHz / with tail / long holder)
For High-speed head (8kHz / without tail / short type)
For the latest model; 12 kHz head (K-500 / G3 and G4)
For A-head (A-Type)

2. Ohio stylus;
For vista vision 2(850, 857 and etc.)
For vista vision 3(1315, 2215, 3615, Spectrum, Prism and etc.)
For B710 / B720(cylindrical shank / classical model)

Tip angle; Both Helio and Ohio are as 95, 100, 105, 110, 115, 120, 125, 130, 140, 145 and 150-degree

*Gravostar machine (GS XXX) is also accepted for above Helio and Ohio stylus. It depends on machine type

Burr Cutter for Helio and Ohio type (Both one-way and multiple use type)
Helio burr cutter; for K-300, K-400, K-500, K-500/G-3, Hell / Gravostar and etc.

Ohio burr cutter; D0005C, D8330C, D8330N, D8344, D320007-01 (-02), D320185-01, and D321004-01

Sliding Shoe for Helio and Ohio type
Helio sliding shoe; for K-300, K-400, K-500, G-3, Hell / Gravostar and etc.

Ohio sliding shoe; D0006J, D0006L, D0006LG, D320082-03 (-04, 05, 07) and D320086-03

Specialty Roll Chuck for setting copper cylinder

Peripheral Jig --- *We can also custom-make Jig to better suit your needs.





| | |
| --- | --- |
| | |
| Helio Styli for 4KHz, 8kHz, 12kHz & A-head | Ohio Styli for Vision 1 to Vision 3(4 & 8kHz) |




| | |
| --- | --- |
| | |
| At the start of engraving | After 700 hours using |




| | | |
| --- | --- | --- |
| | | |
| x 500 on the edge | x 1000 on the edge | x 2000 on the edge |

Recommended products Vol.1:

"Long Life Diamond Stylus"



We have got good news for you!
We have developed new diamond stylus lately.
It looks same but works much better than your current one.
This new stylus brings you that not only is life expanded than our conventional product,
but it keeps clear cell profiles at the beginning till the end of using.
They are not only for Helio but also for Ohio. Plus for A-head and 12 kHz head too!

If you make a good copper cylinder on your site, our stylus makes every use of its potential.
In this case you do not have to change your stylus quite often.
It means you can cut down on accidents that happens just after stylus is changed.
Using stylus number is bigger is better? Or "Less is More"?
If you are interested in it we will give you free samples, please let us know the angles that you want.


[ Click and check our new stylus sample data ]




Recommended products Vol.2:

"Adjustable Burr Cutter (Patent No. 5848715)" for Helio machine




Have you ever had any scars, scratches, or craters while you are engraving cylinders?

Almost all of those problems are caused by burrs that are not cleaned up by burr cutter.
*Burr is made after copper cylinder is engraved by diamond stylus.
Especially when you change cylinder size that from small to large and vice versa, those troubles occur frequently.
Unfortunately original burr cutter does not cover all size of cylinders, because this fixed feature of diamond.
It may be good for just several cylinder sizes but no-good for outside of that range.

Our new burr cutter is movable. It means you can change cutter angle whatever you want.
Why do you need this movement?
As you know touching point between burr cutter and cylinder is different when you use different diameter (circumferential length) of cylinders.
If you can set burr cutters as same angle always, you can remove burrs easily!


| | |
| --- | --- |
| | < |
| Angle for large cylinder | Angle for small cylinder |


Another good point is this cutter(blade) part is detachable.
When cutter itself become dull, you can change it in a minute and you do not have to do unit adjustment anymore.


See the details of "New Burr Cutter"





Recommended products Vol.3:

"Direct Acting Sliding Shoe for Helio Machines"

| | |
| --- | --- |
| | < |
| Looks almost same as normal(round) type | Top part(insert) has a secret... |


Sliding shoe measures the distance between copper cylinder and engraving head.

You may have to change its zero point (reference point) every time changing stylus.
Original model of sliding shoe rotates for changing its length, but sometimes this movement makes scratches on a cylinder surface because of uneven abrasion of top part(diamond).
This problem is inseparable as long as sliding shoe makes rotation.
If cylinder got those scratches, it is difficult to make shipment as a good item.
We will give you a solution for such a kind of frustration and disgusting situation.
Our direct acting sliding shoe does not rotate, but changes length as usual.
It means diamond touches same face to cylinder every time.
No more scratches and reduce your rejection rate.


See the details of "Direct Acting Sliding Shoe"




Recommended products Vol.4:

"AIR-AID: Stronger Vacuum for Helio Machines"

| | |
| --- | --- |
| | < |
| This is our "AIR-AID"! | How dirty your nozzle is? |


After stylus made plenty of "cells (tiny dots)" during engraving, there are many copper burrs (dusts) around those cell structures. Normally burr cutter removes those burrs and every dust is vacuumed by nozzle.

Once those copper burrs are not sucked into nozzle, they are left on the engraving head and getting bigger and bigger like dump (trash pile).
Unfortunately, genuine vacuum power is very mild.
It is like an air-conditioning system of North European cars in summer time.

If your engraving head has many copper burrs regularly, sometimes those ones get into between cylinder and head. If you do so, those burrs may make scratches or pin-holes on the cylinder by friction of cylinder rotation.
Plus, those burrs are easily to getting hot and this heat makes a decline in function of engraving.

This is the reason, we produce new nozzle that is called "AIR-AID."
We arranged external shape and internal figure of this nozzle by our original calculation.
Once you set on this AIR-AID on your engraving head, you get powerful vacuum and remove much more burrs even if suction power of machine unit isn't changed.

This AIR-AID brings you clean up your engraving head more than you expected.
Clean up all of your stress and say "SAYONARA" to all copper burrs!


See the details of "AIR-AID"

AIR-AID movie is here!




Recommended products Vol.5:

"Finish Processing Diamond Cutting Tools"




| | |
| --- | --- |
| | < |
| For your CFM or lathe machine | Right part is done by ours |


If you have CFM (Cylinder Finishing Machine), Finish Star, Duo Star, or lathe machine for making cylinder, you may use this kind of diamond tools.

We are done special treatment on the edge of this diamond tool.
Now you can use it longer than current using tool. Plus you will get better surface roughness.

We only produce 1 type of cutting tool(triangular shape) by ourselves at this moment.
Nevertheless if you have any other shape of tools with diamond on the top, it is available to make this treatment.
Once you send your diamond bites to Japan, we will do our method on them and return you.


See the details of "Finish Processing"




Recommended products Vol.6:

"Grinding Stone Clamping Unit (Patent No. 5848691)"




When you make cylinders, how do you fix and remove grinding stone on your grinding machine right now?

Do you use any chemical agents (adhesion bond, silicon, solvent, thinner or so) for that?
Are those items safe on the body? Nobody thinks so. It maybe accumulated in your body before you notice.
If you use any heat (portable gas stove, burner and etc.), aren't you scare fires?
Another question is, how many minutes do those works take?
Plus, do glue or double-sided tapes fix stone and plate exactly the good position?
Sometimes OK but sometimes not. Who knows?

Even if you are satisfied your current situation, our new attachment will help you a lot.
Look at this kit; it does not need any chemicals.
You do not need to wait such a long time till stone is ready, either.
And this unit gets a good center position every time, this good position brings you good surface roughness always.

Try our product and feel more comfortable. Let's avoid all of life's irritations.


See the details of "Grinding Stone Clamping Unit"







Where is your stylus originally from?


Stylus what you are using is really made by that manufacture's country?
It may be difficult to confirm the truth by yourself, because almost all of users have never polished diamond on their side.
We have heard of an interesting story these days; it seems like a maker makes stylus in a third country, not in Europe. However he labels his original name on the box of stylus. It is a kind of false advertising and we do not agree this business style.
Of course 100 % of our products are made at our factory in Japan, even if it is brand-new or re-sharpened stylus.
If your recent stylus does not provide same performance as before, you would better to doubt its country of origin.
Good and stable quality is proof of the trust. That is our policy.





| | |
| --- | --- |
| | |
| Helio Shoe and Cutter / Genuine model | Ohio Shoe and Cutter / Genuine model |