PRODUCTS-5: SUPERFINE PROCESSING
Diamond Cutting Tools

It is available to adjust whatever you want.
It means if you do not find diamond shape that you need on the market, we probably provide you your own style items.
You may have been using other kind of tools before and also now, but our single crystal diamond tools bring you more beautiful surface roughness and wonderful results on your workpieces.
Especially, if you do elliptic oscillation cutting for making very, very thin metal layers, we really recommend you to use our tools.
Why don't you make your own style?


Ultra precision piercing

Syntek has 5 precision electric discharge machines (EDM).
We can comply with customers' requests for piercing work with various methods
depending on the shape and purpose of use.
If the material is conductive metal, we can make a hole without problem.
For example, we have experience making piercings of φ10 micron meter.
And we can make much smaller piercings if required.
Furthermore, we can make inner polishing up to φ100 micron meter.
We would like to discuss further details like counter boring and work thickness.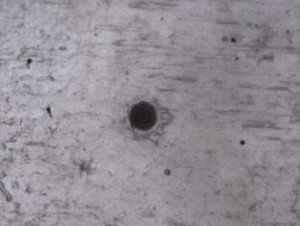 φ5μm SUS
Our Methods to make a tiny hole
As you know there are many types of hole making.
Mainly, we do 3 methods of them as below.
We use laser cutting or etching in some case.
We also do deep hole processing on a case-by-case basis.

①Electric discharging
We do a variety of electric discharging processes,
but we use our special machine for when we make a tiny hole.
It does not touch the work directly, therefore it has the advantage for below processing.
A. Complicated fabrication of metal
B. Thinner work
C. Small work
D. Tool is slipped on curved surface
E. Insufficient clearance between each hole
F. Difficult to cut by WC tool

②Drilling process
If your desired hole diameter is more than 0.1mm and work is stainless, aluminum, acrylic, and resin.
We drill it to make a hole by our diamond tool.
We sell tungsten carbide (WC) drills and please ask us details.

③Punching process
We make small hole by punch and die.
Our minimum size is 0.02mm diameter.
We also make a tapered hole.
Following pictures are our samples.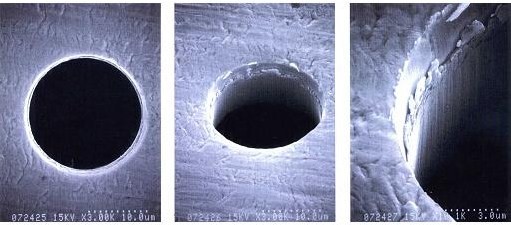 φ20μm punching hole by SEM



Superfine edge processing

It is the edge processing on tip section.
According to diameter and depth of the work,
it is possible to use pipe or stepped process.
Processing method and accuracy are different by work.
Please do not hesitate to ask for details.
(×100 / Ni)
Purpose:Probe, Contact, Micromachine, Test chart and etc.



Superfine hole

Left picture is a WC pin of 0.03 mm diameter.
As well as processing tungsten carbide, also possible to do for nickel,
aluminum and magnet which are usually unsuitable small diameter work.
(×200 / WC by SEM)
Purpose:Mold of optical fiber, Punch pin, and Gauge




Superfine surface processing


When you work outer diameter, it is essentially inevitable scratches on surface.
We keep them to a minimum and improve its surface roughness by using special grind stone.






Normal polishing / WC by SEM




Special polishing / WC by SEM
Laser processing

Usually, we use it for rough processing of diamond before its polishing.
As you probably know, you can do a variety of processes by laser system.
We cut, make a hole or groove for any kind of diamonds.
We will give you different types of processing such as sawing, shaping, bruting, and slicing.
Mold

As we introduce other chapter, we produce superfine processing with our special EDM.
Here is an example of our products, we have experience to produce punch and die parts
that punches out 0.01mm diameter hole.
Of course, we can provide larger materials.
If you would like to get precise die or jig, please feel free to contact us.
We will offer a variety of options to your demand.


Jig and other parts

When you try high accuracy processing, you may need some suitable jigs or parts for it.
Of course, we use different kind of jig for our processing.
We have been producing a variety of jigs and parts for our customer needs.
Like many types of diamonds, we are dealing a wide variety of metals which are tungsten carbide,
stainless and aluminum.




Materials

Description

Details



WC or SUS 
Axle and parts for micro-machine 
Making hole for pin-hole examination 


Al or WC 
Pressing jig 
Clearing corner radius on positioning click


SKD
Spacer and pin for electron gun 
Slit process for inspection devices: 0.05×3mm 


W 
Jig for tungsten heater 
φ0.01mm Pin-hole for detection of air leak


Pt 
φ0.01mm Collimator 
Grooving on acrylic 


Ti
Probe for measuring machine 
Making scratches in inside a pipe


WC or SUS
Punch and die 


WC or SUS
Positioning stage 


SUS
Suction stage


Cu
Grooving on roll 


Al or Ni
Micro-pin processing (φ0.9mm)


SUS
Fine nozzle for ultraviolet


WC or SUS
Nipple and die 


Al
Holder of variable lens 


Diamond or WC
Tip-mounter suction nozzle