PRODUCTS-4: DIAMOND KNIVES, SCRIBE CUTTER & TURNING TOOLS
Diamond Scribe Cutter

It is called Sintered Diamond Cutter, too.
It uses as scribing when you cut brittle materials such as LCD (liquid crystal display) screen or silicon wafer.
In comparison with griding stone, this cutter has less machining allowance and almost no chip or dust.
Plus, it does not need cutting oil or water during cutting, so you can do as dry cutting.
We will also give you cutter holder and scriber of single crystal diamond.
Diamond Axle

We are producing and selling Diamond Axles for above Diamond Scribe Cutter.
We use the hardest type of PCD(Poly Crystal Diamond) for diamond axles, which makes them very tough and abrasion-resistant.
We are confident that we will can adjust our product specifications to your needs.
Single Crystal Diamond surface polishing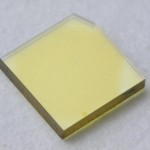 We do (100) and (111) polishing. Plus doing re-lapping, too.
The surface of a single crystal diamond has millions of polishing flaws
which can have a huge impact on your experiments.
You can reduce the effect of epitaxial growth and other flaws by this polishing method.
We can polish not only top and bottom surface but lateral side.
We can also lap CVD diamond if it has a crystal orientation.

| | |
| --- | --- |
| | |
| Before Polishing | After Polishing |
Diamond Turning Tools

We manufacture various tools, from normal ultra precision levels.
The following pictures show a 0.4mm-wide diamond endmill.
| | | |
| --- | --- | --- |
| | | |
| Diamond End Mill | From Top View | Cutting edge by SEM |
Single crystal diamond end mill

Below No. 1 to 8 are main nose shape our end mill.
If you tell us your fabrication, we will let you know the best type for you.

①Square corner
②Radius corner
③Flat-topped
④Undercut
⑤Partially radius topped
⑥Radius topped
⑦Inverted radius
⑧Comprehensive
Main Uses

Micro lens
Fluid engineering
Cutting groove
Marking
Profiling
Scribing
Diffraction
Drilling: partly turning and bearing chamfer
Superfine and mirror-like cutting
Diamond Abrasion Resistant Parts

We provide usual abrasion-resistant parts like WC or SUS.
However we recommend to use "diamond" instead of above materials, especially for nozzles, bonding tools or sliding parts.
If you use diamond as abrasion-resistant parts, you can reduce tool changing time, or error by abrasion.
Those result in a major contribution to your production line.
We can supply sample products. If you are interested in it, please ask us details.