PRODUCTS-3: ULTRAHIGH PRESSURE EXPERIMENTAL EQUIPMENT
Hot property!! Educational Cell:

"SEED {si'ːd}"

Do you know how to make ice at room temperature? Maybe not.
It may sound too good to be true but you can do it with our educational DAC, SEED.
It is like taking candy from a baby.
We produced a unit that makes 1 GPa and gets ice from tap water in 5 minutes. That's it.
You don't need to do complicated preparation like usual DAC research and this unit is light enough to take along anywhere.
Therefore, we get a lot of positive feedback from elementary, junior-high and high schools.
We would like to serve as a bridge for the promotion of friendly relations between ultrahigh pressure research and promising children.
Of course we recommend this kit for professionals, whether they be researchers or professors.
※See the details. Sample movie of SEED is here!


Diamond Anvil Cell

It is called DAC, short for the "Diamond Anvil Cell."
A Diamond Anvil Cell is the gear to produce ultra high pressure,
such as several hundred giga pascal, with Diamond Anvil.
We have been producing many types of Diamond Anvil Cells for a long time.
There is no standard model about Diamond Anvil Cell.
Spec of each model is different and it depends on your environment and experiment.
Using our data, we can suggest certain cells based on your manufacturing plans.


Types of Cell

We can provide you various models of cells.
For example, clock type, box type, lever type(Whale cell), piston cylinder, Merill-Bassett type,
Wedge-sliding type and gas-driven type are our standard models.
We have those cells' basic design drawings.
You can use our standard one or any improvement will be welcome.
If you tell us your experiment description we will propose a couple of suggestions.


Diamond Anvil

A Diamond Anvil is an essential part for ultra high pressure experiments.
Our anvils are precise and of a high enough quality to where they can generate
a field of several hundred giga pascals on the experiment.
The quality of cutting diamond anvil from the stone crystal has a decisive influence on high-pressure generation using a diamond anvil cell (DAC).
Recently, we have established a high-precision processing technology for the cutting.
The development enabled to design a simple and convenient DAC without any adjustment mechanism to parallelize culet-faces of opposite anvils.
We produce single crystal diamond anvil, sintered diamond anvil, sapphire anvil and more.

We have increased our lineup of products developed for "SH anvil" as high quality and high accuracy.
And "reasonable anvils" these days. You can choose from among them according to your individual needs.
Please check them out and pick up suitable items for you.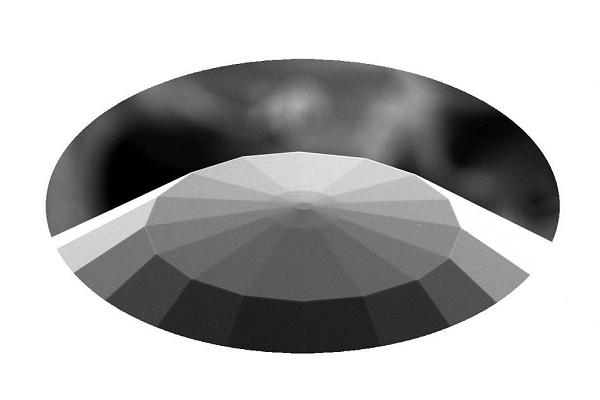 Syntek's Anvils Feature

Below is one of our techniques.
Each facet is equally-divided remaining 0.010mm diameter flat surface
on the cullet of single crystal diamond.

A. It is made in Japan
We do procurement to polishing of diamond by ourselves.
So, we will meet a wide variety of customers' demands promptly.
B. Quality first
As you know, quality of your diamond is very important because it is used under severe condition.
We place the most importance on size accuracy, surface accuracy, parallel accuracy, and inspection.
Plus, we do especially on cutting.
It would not be an exaggeration to say that our diamond anvil possess the world's highest quality.

C. Wide variety of manufactural range
We can produce diamond anvil as following size.
1. Girdle diameter: About 2.5 to 4.0mm
2. Height: About 0.7 to 2.5mm・
3. Cullet diameter: φ0.010mm minimum
There is a possibility that above size is limited by combination, so please ask for details

Gasket

Gasket is one of essential parts for ultrahigh-pressure experiment.
Can you image a thin plate that has tiny hole in the middle?
It is called gasket. We usually use SUS or rhenium for this part.
You put "sample" into this hole and sandwich it between culets of anvils.
When those culets make ultrahigh-pressure, the sample changes to different material.
If you want to get good result for your experiment, gasket needs precise hole at the very center.
We produced EDM that makes superfine hole.
This enables gasket gets 0.005mm diameter hole at the smallest.



| | |
| --- | --- |
| | |
| φ0.2mm Drilling Hole | φ0.2mm EDM Hole |
Peripheral Equipment

Pressurize jig, seat, minute specimen and other production tools.
We will provide the suitable products for you that you requested.



Sintered Diamond Anvil / Diana

Normally, it has many problems because it needs cermet or other metal frame during sintering.
Ex. Cracks by coefficient of thermal expansion difference or remaining stress.
We improved our sintering technique without metal frame.
We can produce larger one which is until 24mm.
We are developing X-ray transmission now.






Sintered Diamond Anvils
Others

With our technologies and developments, we are always doing our best to comply
with our customers' needs, which have come from various industries, not just the ultra high pressure industry.

Concave processing work on culet face of diamond anvil
Manufacturing of specimen over 20mm diamond
Piercing on gasket (positioning after pre-compression)
Manufacturing of diamond window for x-ray
| | | |
| --- | --- | --- |
| | | |
| Cullet asperity | Gasket hole φ0.03mm(Re) | Diamond Window |